Head of Household Must own a gun!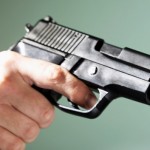 In 1982, the Kennesaw City Council in Georgia voted unanimously to pass a law that requiring all heads of households to own at least one firearm with ammunition.

The ordinance states the gun law is needed to "protect the safety, security and general welfare of the city and its inhabitants."

Amazingly, Kennesaw Historical Society president Robert Jones said after the law passed, the crime rate in the city dropped 89 percent. Compare that huge drop to the modest 10 percent drop statewide in Georgia and you have a pretty bizarre statistic.