Vibrator's are illegal in Texas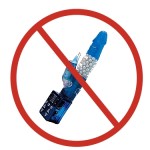 Vibrators are Illegal in Texas[/caption]Under a 1973 Texas law, sales of "Obscene device[s]" are prohibited.
Meaning: a device including a dildo or artificial vagina, designed or marketed for the primary use of stimulation of human genital organs. 
People have been arrested recently, most notably a store clerk in Lubbock, TX in 2007 & Burleson in 2004.